Kermit
Moderator
4166 Posts
Joined 23 Feb 2011, 00:00
From North West Pa. USA
458 Thanks Received
208 Thanks Given
Name: Kel
The following users say thanks for this post:
nacpalm
,
Ok I'm going to keep this one nice and short, sweet to the point
Superworms (zophobas morio, a.k.a Morioworm) are different from mealworms (Tenebrio molitor a.k.a mealie). Entirely different species.
-Different nutritional ratios (superworm protein level of 17.4% compared to 20.27% for mealworms .05%.
-Different calcium ratios for supers 10.8%, versus 3.2% for mealies.
- Different fat ratios for supers, 16% versus 13% for mealies.
-Different fiber ratios (Shell is accounted for as fiber source usually) 6.8% fiber for supers versus 1.73% for mealies. *all percentage are approximate as no 2 informational sources can agree on exact numbers*
- Different shell (exoskeleton), not as thick/much on supers as mealies).
-Different environmental needs- you can refrigerate mealworms to put them into stasis and prevent pupating and last longer but if superworms go below 65 they die. You CAN NOT refrigerate superworms, but they will NOT pupate as long as you keep them fed, I have had some from my original colony from october 2010 with out problems.
-Superworms will not pupate until you seperate them into their own cell like in a tackle box and stop feeding them.
...They're just all around different. The superworm on the top is about 5x larger than the mealie below it, altho the superworms would appear to be twice the size of mealworms. However, when you take into account the girth of a superworm (about the width of a #2 pencil) the size difference is far more pronounced. As the following scale comparison shows - superworms are about five times the size of mealworms on average. (that super in the picture is just recovering from a shell shed which is why it appears lighter than the super in the next picture).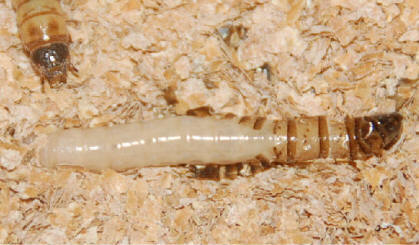 However superworms DO have strong jaw, and a pointy defensive "spike" type thing on the back of their tails that they use similar to a scorpion when grabbed. I feed them to my leopard gecko, thankfully he always grabs head first and avoids injury, but I do give their heads a little pinch (and suggest you do too) with tweezers before feeding to stun them a bit to help avoid the potential injury.
Superworm:
Mealworm:
What the picture can't show is how active superworms are compared to mealworms. Superworms are constantly on the move, which is great if you've got a picky eater or a pet that prefers to hunt its food. Many insectivorous animals are attracted to movement, and superworms are an attractive treat.
Superworms have a higher meat to chitin ratio than mealworms. Meaning your pet gets more easily digestible meat and less difficult to digest chitin. Basically, superworms are easier to digest than mealworms.
Superworms remain larvae longer than mealworms. You can keep superworms unrefrigerated for up to 3 months without them pupating or dying. Whereas without refrigeration mealworms only last a few weeks before they begin the process of turning into beetles.
As a general rule, if your pet is big enough to eat superworms, they are probably a better choice than mealworms. Superworms are bigger, meatier, livelier, and longer lasting than mealworms. Arguably, at five times the size of a mealworm and given their longevity in the larva state they are also a less expensive choice in the long run.
So I hope this helps to explain some of the major differences between superworms and mealworms.